---
News — Recycling
Posted by Sarah Moore on
Egg Cartons and Egg Flats can be used for many things other than eggs for things like cupcakes, cookies, bath bombs, crickets, and so much more. Check out this post if you're interested in seeing 50 things egg boxes and trays can be used for other than eggs!
---
Posted by Sarah Moore on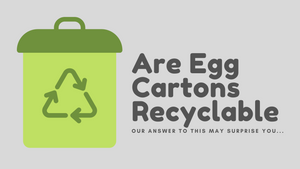 In recent years, we have received many questions regarding recycled plastic egg cartons (also known as RPET, a type of #1 plastic). Our customers usually want to know whether they are recyclable or why we sell them at all due to their bad rap. Seeing that we sell many plastic egg cartons each year, we think it is our duty to share our thoughts on this. Plastic Egg Cartons vs Paper Egg Cartons Paper egg cartons are usually seen as being the most environmentally friendly egg carton. Pulp is made from a natural, renewable and sustainable resource and usually boasts...