---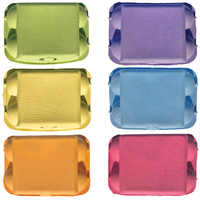 Multi-Pack Paper Egg Carton | 6-Egg
PLEASE NOTE: OUR COST FOR THESE CARTONS HAS MORE THAN DOUBLED SINCE THE PANDEMIC STARTED DUE TO INCREASED COSTS ALL ACROSS OUR SUPPLY CHAIN. WE ARE PRICING THESE CARTONS AS LOW AS WE CAN. WE ARE NOT LOOKING TO PRICE GOUGE ANYONE. WE WILL REDUCE THE PRICING AS SOON AS OUR COSTS DECLINE.
General Information
Lime, Blue, Yellow, Orange, Purple, and Pink included
Equal parts of each color shipped
No substitutions
Soft and fun in 6 colors
Made from recycled pulp, 100% recyclable
6-egg bi-fold carton
Available in blank only
Print Features
Top: None
In-lid: None
Front: None
Back: None
Dimensions - Please note all measurements are measured to the nearest 1/4"
S-XL Chicken eggs (43-63g)
Carton dimensions (LxW): 6" x 4.50"
Cell dimensions (WxH): 1.75" x 2.00"
Available Label Space (LxW): 3.50" x 3.25"
Carton weight (ounces): 1.40
Other Uses
Bath Bombs
Baked goods
Cupcakes
Candles
& more!
Awesome 6 packs!
Love love love the colors you offer!